Informal Reception
The Informal Reception will take place at the historical Atrium at TU Berlin on 14 October 2012. It will start at 6 pm.
Welcome Reception
The Welcome Reception will take place at the Orangery of Charlottenburg Palace on 15 October 2012 and start at 7 pm. It is within 30 minutes walking distance from the university. Alternatively, you may take bus M45 from Ernst-Reuter-Platz or Zoologischer Garten (direction Johannesstift) to Charlottenburg Palace.
The Orangery is connected to the west of Charlottenburg Palace and was built from 1709 to 1712 following the design of Eosander von Goethe. The two pictures below show the interior of the Orangery.
Interested parties may also visit the palace, shown below. It was originally built by Elector Frederick III as a summer residence for his wife Sophie Charlotte in 1699. Guided tours may be booked via the registration form.
The address is:
Große Orangerie
Schloss Charlottenburg
Spandauer Damm 22-24
14059 Berlin
Conference Dinner
The Conference Dinner will take place at the historic Postbahnhof close to the Berlin Wall on 16 October 2012. It is located at station Ostbahnhof.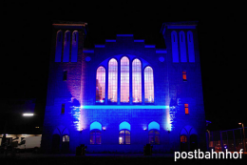 The address is:
Postbahnhof
Straße der Pariser Kommune 8
10243 Berlin