Chair: Zbigniew A. Styczynski
Otto-von-Guericke-University Magdeburg, Germany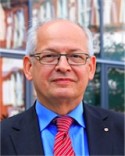 Zbigniew A. Styczynski received his doctoral and habilitation degrees from Wroclaw University of Technology, Poland in 1977 and 1985, respectively. He taught at the Technical University of Stuttgart in Germany from 1991 to 1999. He then was appointed head of the Chair of Electric Power Networks and Renewable Energy Sources at the Otto-von-Guericke-University Magdeburg, Germany.
Dr. Styczynski is President of the Saxony-Anhalt Center for Renewable Energy (Z.E.R.E. Sachsen-Anhalt). He is also the President of the International Institute of Critical Infrastructure CRIS in Stockholm, at which scientists from over 30 countries refine the optimum safety and efficiency of critical infrastructure in industrialized countries, including national electricity grids, European transport and logistics networks, and global communications networks. His special fields of interest include electric power networks and systems, expert systems and optimization problems.
Panel Abstract

In many demonstration projects and field tests all over the world, smart distribution networks are designed, tested and analyzed. In this panel, practical experience from different countries is elaborated upon and compared. The contributions come from project consultants, network operators, and manufacturers from different countries to cover a broad spectrum of experience levels.
Presentations
E-Energy: Distributed Intelligence for Distributed Energy Systems 

Ludwig Karg (B.A.U.M. Consult, Germany)
From Words to Action: Towards Smart Grids Solution in Sweden     
Viktoria Neimane (Vattenfall, Sweden)
Insight From the Edge – Lessons From Large Scale Demand Side Management Projects  
Bastian Fischer (Oracle, Germany)
The Smart Distribution Network Journey in the French Context
Arnaud Ulian (Electricité Réseau Distribution France (ERDF), France)
Smart Distribution for Distributed Energy Resource Management
Matthias Muscholl (Alstom, Germany)