Chair: Martin Schipper
TSB Innovationsagentur Berlin GmbH, Germany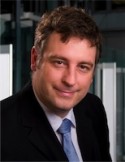 Dipl.-Pol., M.Env.Sc. Martin Schipper has been head of department Energy Technology at the TSB Innovation Agency Berlin GmbH since 2011. Beyond energy, this also includes environmental topics such as water and waste as well as resource and material efficiency. Furthermore, Mr. Schipper is involved in the management team of the Cluster Energy Technology in Berlin-Brandenburg.
Mr. Schipper holds both a Master for Political Science and for Public and Private Environmental Management. Mr. Schipper was a project manager for international activities at TSB Innovation Agency Berlin GmbH from 2007 to 2011. He managed energy related European projects in the field of aerospace and railways. This includes ECORailS, Energy Efficiency and Environmental Criteria in the Awarding of Regional Rail Transport Vehicles and Services.
Panel Abstract
The innovation forum offers attendees a look into activities in the Berlin Brandenburg area aimed at creating smart energy products and services. The presentations cover system solutions at the transmission, distribution, and home levels, as well as technologies such as electromagnetic filters. It is recognized that Berlin developments play an important role in the process of energy change mandated by the Federal Government. This panel is supported by Technologiestiftung Berlin (TSB).  
Presentations
Martin Schipper (TSB Innovationsagentur Berlin GmbH)
Gerd Harms (ENERTRAG AG)
Enrique Isla (Alstom)
Volker Keddig (Fuss EMV)
Martin Wolter (50Hertz)
Heiko Lehmann (T-Labs)
Rainer Frank (Mediabroadcast)
Detlef Olschewski (Cleopa GmbH)
Frank Christian Hinrichs (InnoZ)
Energy-efficient EUREF Research Campus Development in Berlin-Schöneberg



Reinhard Müller (EUREF)
Beate Mekiffer (Wista Management GmbH)