Chair: Lina Bertling Tjernberg
Chalmers University, Sweden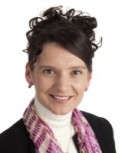 Lina Bertling Tjernberg holds the Chair of Professor in Sustainable Electric Power Systems at Chalmers University of Technology, in Gothenburg, Sweden, since 2009. During 2007-2009 she has been with Svenska Kraftnät. She has been with the Royal Institute of Technology (KTH) during 1997 to 2009, where she became Associate Professor in 2008, and finalized her Ph.D. in 2002.
Dr. Bertling is serving as IEEE PES Treasurer. She is the Chair of the Swedish PE/PEL Chapter and the IEEE PES Subcommittee on Risk, Reliability and Probability Applications (RRPA). She is a member of the Editorial board of the IEEE Transactions of Smart Grid. She was General Chair of the first IEEE PES ISGT Europe Conference, in Gothenburg, 2010.  She is a member of the Swedish National Committee of Ciréd and the World Energy Council, and a member of Cigré. She is a Member of the Government Coordination Council for smart grid.
Panel Abstract

Hydroelectric power generation is substantial for the developments of the future energy system in Europe since it offers a renewable and controllable energy source as well as storage potentials. The ongoing development to meet climate and energy goals has so far resulted in a major change with increased intermittent power generation. This leads to increased need for balancing resources and transmission capacity, where the delivery of hydroelectric power generation from Scandinavia will play a key role. Therefore, this panel focusses on Scandinavian experts and their visions for the electric power system, possibilities for capacity delivery to northern Europe, development perspectives and required economic incentives.
Presentations
Lina Bertling Tjernberg (Chalmers University, Sweden)
Sture Larsson (Swedish TSO, Sweden)
Gerard Doorman (Norwegian University of Science and Technology Trondheim, Norway)
Xiao-Ping Zhang (University of Birmingham, UK)
Tomas Tangerås (Research Institute of Industrial Economics Stockholm, Sweden)