Chair: Kai Strunz

TU Berlin, Germany
Kai Strunz has been Professor and Chair of Sustainable Electric Networks and Sources of Energy (SENSE) at TU Berlin since 2007. He obtained the Dr.-Ing. degree with summa cum laude from Saarland University in 2001. From 1995 to 2007, he was research assistant at Brunel University in London, research engineer at Electricité de France (EDF) and Assistant Professor at the University of Washington in Seattle. Dr. Strunz received the National Science Foundation (NSF) CAREER award in 2003.
Dr. Strunz is Chair of IEEE PES Subcommittee on Distributed Generation & Energy Storage and Vice Chair of IEEE PES Subcommittee on Research in Power & Energy Education. He is Affiliate Associate Professor at the University of Washington, Seattle. Dr. Strunz has been active on editorial boards and co-manages the operation of the Power Globe email forum. He was Review Editor for the IPCC (Intergovernmental Panel on Climate Change) from 2009 to 2011.  
Co-Chair: Nikos Hatziargyriou
National Technical University of Athens, Greece
Nikos D. Hatziargyriou is Professor at the Power Division of the Electrical and Computer Engineering Department of NTUA. From February 2007 to August 2012, he was Deputy CEO of the Public Power Corporation (PPC) of Greece, responsible for Transmission and Distribution Networks, island DNO and the Center of Testing, Research and Prototyping.
Dr. Hatziargyriou is Fellow Member of IEEE, past Chair of the Power System Dynamic Performance Committee and Chair of CIGRE SCC6. He was member of the EU Advisory Council of the Technology Platform on Smart Grids. He has participated in more than 60 R&DD Projects, and was coordinator of the EU funded "Care", "More Care", "Rise", "Microgrids", "More Microgrids" and "Merge". He is author of more than 250 scientific publications. His research interests include Smartgrids, Microgrids, Distributed and Renewable Energy Sources and Power System Security.
Laurent Schmitt: Building Next Generation Smart Grid Architectures
Alstom, France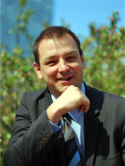 Laurent Schmitt is Vice President for Smart Grid Solutions at ALSTOM. He graduated in September 1998 from Supelec in Paris with a degree in Power System Engineering. He has been Sales and Product Marketing Director for South-East Asia at ALSTOM, Director for Strategy at the Areva T&D Bussiness Unit, and Vice-President for Strategy & Innovation for ALSTOM's Energy Management Business
Laurent Schmitt is member of several strategic industry committees working on Smart Grids such as CIGRE, IEC, EPRI and ENTSOe and contributes to several expert advisory taskforces to the European Commission, the International Energy Agency (IEA), and several university consortia including the University College Dublin, in the areas of generation, Smart Grid and storage applications. He recently co-authored a white paper on Smart Grids standards convergence published through the CIMUsergroup as well as on Smart Cities for the World Energy Conference.
Jochen Kreusel: Smart Grids – A Global Evolution of Power Systems
ABB, Germany
Jochen Kreusel is head of the Smart Grids program of the ABB group, Zurich. He graduated with the Dipl.-Ing. and Dr.-Ing. degrees from  RWTH Aachen University. In 1994, he joined ABB where he held managing positions in marketing and technology of high and medium voltage switchgear until 1998. From 1999 to 2001, he set up a new ABB subsidiary dealing with software solutions for utilities in liberalized energy markets. From 2001 to 2002, he was in charge for identifying and financing new business ideas for ABB. From 2002 to 2010, he was member of the management board of marketing and sales for the power technologies divisions.
Jochen Kreusel is honorary professor at RWTH Aachen University. Since January 1, 2008 Jochen Kreusel has been chairman of the Power Engineering Society (ETG) within the German Association for Electrical, Electronic & Information Technologies (VDE).
Helmar Rendez: The New Energy Landscape – Berlin at the Heart of the Energy Change
Vattenfall, Germany
Helmar Rendez is Head of the Business Unit "Distribution" of the Vattenfall Group and responsible for all network activities within the Vattenfall Group. Dr. Rendez is also the chairman of the Managing Board of Vattenfall Europe Distribution Berlin/Hamburg GmbH. Since 1998 he has held various executive positions within the energy business: Member of the Executive Group Management of Vattenfall AB (2007-2010), Member of the Management Board of WEMAG AG (2004-2007), Head of Integration Management Office/Head of Corporate Development of Vattenfall Europe AG (2001-2004), and Head of Corporate Development of VEAG Vereinigte Energiewerke AG (1998-2001).
From 1993-1998, Dr. Rendez was appointed as Head of Service Management and Head of the Berlin branch of management consultants Kienbaum Unternehmensberatung GmbH. He started his career in 1988 at Zentrum für Logistik und Unternehmensplanung GmbH after his studies of economic engineering at the TU Berlin.
Ronnie Belmans: Smart Grids in the European Framework
KU Leuven, Belgium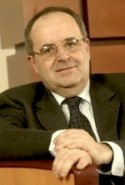 Ronnie Belmans is Full Professor with the K.U. Leuven, teaching electric power and energy systems. He received the M.S. degree in electrical engineering in 1979 and the Ph.D. degree in 1984, both from the K.U. Leuven, Belgium, the Special Doctorate in 1989 and the Habilitierung in 1993, both from the RWTH Aachen University, Germany. His research interests include techno-economic aspects of power systems, power quality and distributed generation.
Dr. Belmans is a guest professor at Imperial College of Science, Medicine and Technology, London. He was chairman of the board of directors of ELIA, the Belgian transmission grid operator from June 2002 to May 2010. Since June 2010, he has been honorary Chairman of the board of directors of ELIA. He is co-founder of the K.U. Leuven Energy Institute and the European Energy Institute, and co-founder and CEO of Energyville as well.