Kai Strunz: Opening Notes
Conference Chair, TU Berlin, Germany
Kai Strunz has been Professor and Chair of Sustainable Electric Networks and Sources of Energy (SENSE) at TU Berlin since 2007. He obtained the Dr.-Ing. degree with summa cum laude from Saarland University in 2001. From 1995 to 2007, he was research assistant at Brunel University in London, research engineer at Electricité de France (EDF) and Assistant Professor at the University of Washington in Seattle. Dr. Strunz received the National Science Foundation (NSF) CAREER award in 2003.
Dr. Strunz is Chair of IEEE PES Subcommittee on Distributed Generation & Energy Storage and Vice Chair of IEEE PES Subcommittee on Research in Power & Energy Education. He is Affiliate Associate Professor at the University of Washington, Seattle. Dr. Strunz has been active on editorial boards and co-manages the operation of the Power Globe email forum. He was Review Editor for the IPCC (Intergovernmental Panel on Climate Change) from 2009 to 2011.  
Jörg Steinbach: Welcome From the Host

President of TU Berlin, Germany
Jörg Steinbach is President of TU Berlin and holds the Chair of Plant Safety of Industrial Systems and Chemical Process Safety. He received his Dr.-Ing. degree in chemical engineering from TU Berlin. While being responsible for the area of plant safety at Schering AG, Berlin, he habilitated in chemical engineering in 1994.
Prof. Steinbach is deputy chairman of the executive board of the Accreditation Agency for Degree Programs in Engineering, Informatics/Computer Science, the Natural Sciences and Mathematics (ASIIN). He is a member of the Technical Committee on Plant Safety at Federal Environmental Ministry (BMU). Furthermore , Prof. Steinbach is a member of the American Institute of Chemical Engineers, member of the New York Academy of Science, and a member of "European Society for Engineering Education" (SEFI – Société Européenne pour la Formation des Ingénieurs), from 2007 – 2009 as its president.
Hans-Joachim Otto: Welcome on Behalf of the Federal Ministry of Economics and Technology

Parliamentary State Secretary in the Federal Ministry of Economics and Technology, Germany
Hans-Joachim Otto is Parliamentary State Secretary at the Federal Ministry of Economics and Technology (BMWi) and Federal Government Coordinator for the maritime industry. The BMWi is one of the major funding agencies of the technical and economic research in Germany and an important supporter of the conference.
The remit of Mr. Otto includes the coordination and pooling of federal measures to strengthen the international competitiveness of Germany in the fields of shipbuilding, shipping, ports, and marine technology. Other focal points of his work are modern information and communication technologies, and the cultural and creative economy initiative of the Federal Government.
Li Xiaolin: Welcome From the Supporters

China Power International New Energy, China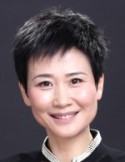 Ms. Li Xiaolin is the Chairwoman of both China Power International Holding Ltd. and China Power International Development Ltd. She is Chairwoman of directors of China Power New Energy Development Ltd., a board director of Companhia de Electricidade de Macau, and an executive director of the Hong Kong Chinese Enterprises Association. Ms. Li graduated from Tsinghua University, majoring in electric power system and automation, and got a master's degree in engineering. She was a visiting scholar to Sloan Management School of Massachusetts Institute of Technology in the United States.
Ms. Li is a council member of Copenhagen Climate Council, a member of the 11th Chinese People's Political Consultative Conference, and an executive member of All-China Women's Federation. In 2010, she was elected one of "Top 50 Global Business Women" by Fortune magazine for the second time, and awarded "Top 10 Women of Chinese Brand", "Excellent Entrepreneurs with Integrity in China", and ranked the first of "2010 Top 10 Women in Economy". In 2011, she was selected as one of "Energy Figures in 2010-2011", one of "Top 10 Models in 30 Years' Enterprise Culture Practice", and one of "2011 CCTV China Economic Annual Figures".
Noel Schulz: IEEE PES – Smart Networking for the Smart Grid
IEEE PES President and Kansas State University, USA
Noel Schulz is IEEE PES President (2012-2013), Associate Dean for Research & Graduate Programs and Paslay Professor at Kansas State University, USA. She received her B.S.E.E. and M.S.E.E. degrees from Virginia Tech in 1988 and 1990, respectively. She received her Ph.D. in EE from the University of Minnesota in Minneapolis in 1995. Dr. Schulz spent eight years at Mississippi State University (MSU) and has of over 19 years of teaching experience including other schools such as Michigan Technological University, University of North Dakota and Virginia Tech. She received the U.S. National Science Foundation CAREER award.
Dr. Schulz is a member of Eta Kappa Nu (Electrical Engineering Honorary Society), Tau Beta Pi (Engineering Honor Society), the American Society for Engineering Education (ASEE), the Society of Women Engineers, and the National Society of Black Engineers. She served on the Board of Directors for ASEE from 2008-2010.